Pay courses without money transfer fees
Published on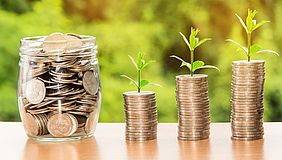 The IIK now offers participants from non-European countries the option to pay for course and accommodation in their home currency via Transfermate. This saves the usual fees for international payments and keeps the exchange rate as low as possible. Further information in English and German.
Payment via Transfermate
No fees for money transfer in foreign currency
The simplest international method of payment for course and accommodation costs is TransferMate Education. The TransferMate service allows you to pay at your local bank in your home currency and receive a favorable exchange rate without bank transfer fees. TransferMate makes it easier and cheaper for international students to pay their tuition and accommodation fees to the IIK.
What are the advantages?
You pay in your home currency
an optimised payment process
no international transmitter/receiver fees
favorable exchange rates
24/7 customer hotline from TransferMate
24/7 online tracking of your payment
Bundling of several payment transactions
With TransferMate you can make transfers in foreign currency (not Euro) to IIK in countries where TransferMate has a local bank account, without paying international bank fees and get favorable exchange rates. Euro to Euro payments are subject to a €10 fee which is displayed on the payment page. Pay your course fees:
STEP 1. complete your booking with the IIK and check the course confirmation sent by e-mail
STEP 2 Visit the TransferMate website and fill out the short registration form Click "Yes" there if you are ready to pay today and then select "Complete transaction".
STEP 3 Transfer the money to the bank account provided.
STEP 4 Send an email to info(at)iik-deutschland.de with a screenshot of your bank's payment receipt, a copy of your passport (China, India and Brazil only) and your IIK course confirmation email or invoice letter from IIK (Brazil only).
STEP 5 Once TransferMate has received your payment and the required documents, the money will be transferred to the IIK, which will send you a confirmation of your payment by email. This process may take three business days after receipt of your transfer.
If you encounter a problem or wish to change your payment method at a later date, please contact our office at info(at)iik-deutschland.de. If you have any questions about our payment gateway at TransferMate, please contact us directly at edu(at)transfermate.com.
Attention: Please complete your booking before making a payment through our payment portal at Transfermate.